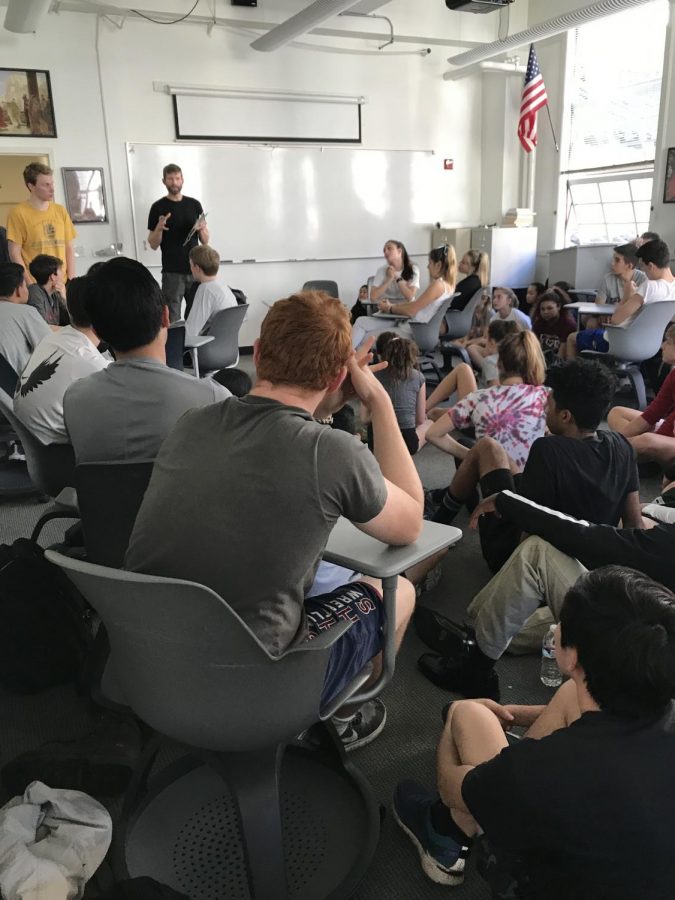 Adele Bonomi
WEB EXCLUSIVE Sprinters, jumpers, throwers and long distance runners had their first track practice of the 2018 season today.  
"My favorite part about track is the tight-knit community where we all work hard together and support one another," sophomore Isabelle Thiara said. "Last track season, I was injured with knee problems so this  season I'm really hoping to push past those injuries and improve my times."
The Convent & Stuart Hall team is coached by teachers from both schools including robotics teacher Christopher Person-Rennell and English teacher Reilly Hall.
"I'm always excited to start a new track season," coach Michael Buckley said.  "I'm looking forward to getting reacquainted with our veterans and getting to know our new athletes for the first time."
Some students have trained in the weight room, on bikes, and with long-distance runs to prepare for the season, according to freshman Dagny Wallace.
"Winter training has helped me keep to stay in shape for track so that I do not have to start from scratch at the beginning of the season," Wallace said. "One of my goals for the season is to bring my mile time down to 6:30."
Other athletes took a break from the intense schedule and only attended a few workouts such as Thiara.
"Winter training is essential to smoothly move into the track season [from Cross-Country season]," Thiara said. "I did not take advantage of this opportunity as best as I hoped, so shifting into a high mileage workout again today off the bat will be difficult."
While gaining new freshmen athletes this year, the team lost seniors such as Gia Monachino and Bea Williams, according to Buckley.
"Gia was the best discus thrower in the history of our league and Bea set a school record in the high jump," Buckley said.  "And that's just two of a gifted group."
Each year there are adjustments in the training based on the athletes in the group, according to Buckey.
"The other coaches and I reevaluate how we prepare each season and make adjustments," Buckley said. "For example, we're changing how we organize weight training this spring."
The first meet will take place in Idaho at the Simplot Games on Feb. 15 to 17.
"Our first and most important goal is to build character and sportsmanship in a team culture of mutual support and affection," Buckley said. "We'll have some exciting ninth graders to replenish our talent, and it's likely that our sophomores and juniors are going to step up."