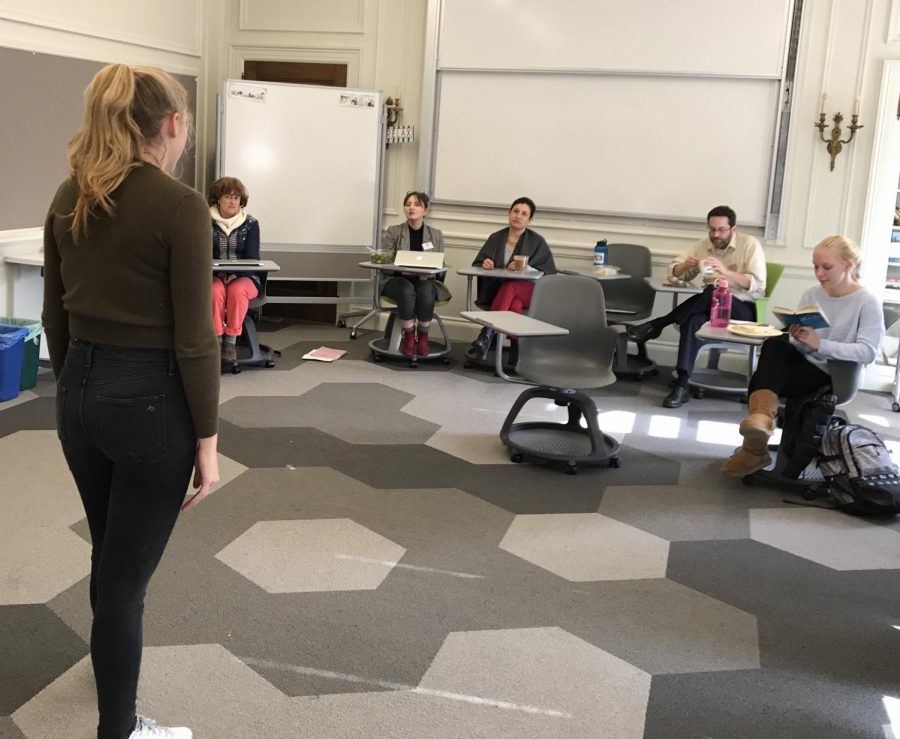 Grace Ainslie
WEB EXCLUSIVE Room 302 acted as The Globe Theatre this afternoon as nine girls auditioned for The Shakespeare Monologue Competition during lunch.
"[The competition] is a way for us to celebrate Shakespeare," English teacher Julia Arce, who judged the audition, said. "It is also a way for students who may not be in a full play or musical to be able to interact with language in a unique way."
Arce judged the monologues with fellow English teachers Mark Botti, Rachel Denny and Riki Garcia.
"The English Department and potentially another faculty member select a winner out of the Convent participants and that person is invited to go to the All-City Shakespeare Monologue Competition at Riordan High School in March," Arce said.
Participants chose from 89 different monologues in select works by playwright William Shakespeare. Senior Marguerite Williamson chose to perform a monologue from "King John" by Lady Blanche.
"I love the school competition because it's generally smaller and the teachers are very supportive," Williamson, who has represented Convent at the All-City Competition for the past two years, said. "I love seeing my classmates perform as well,"
The options for monologues ranged in length from 15 to 22 lines, which they have to memorize for the competition. If a participant moves onto the branch or national levels, they must memorize a sonnet as well.
"Everyone is familiar in some way with a Shakespeare play," Williamson said "If you are interested you shouldn't rush yourself into a monologue just because you think that it's more interesting, definitely start with subject matter that you are more familiar with or character that you can relate to and pick something that hits home with you."