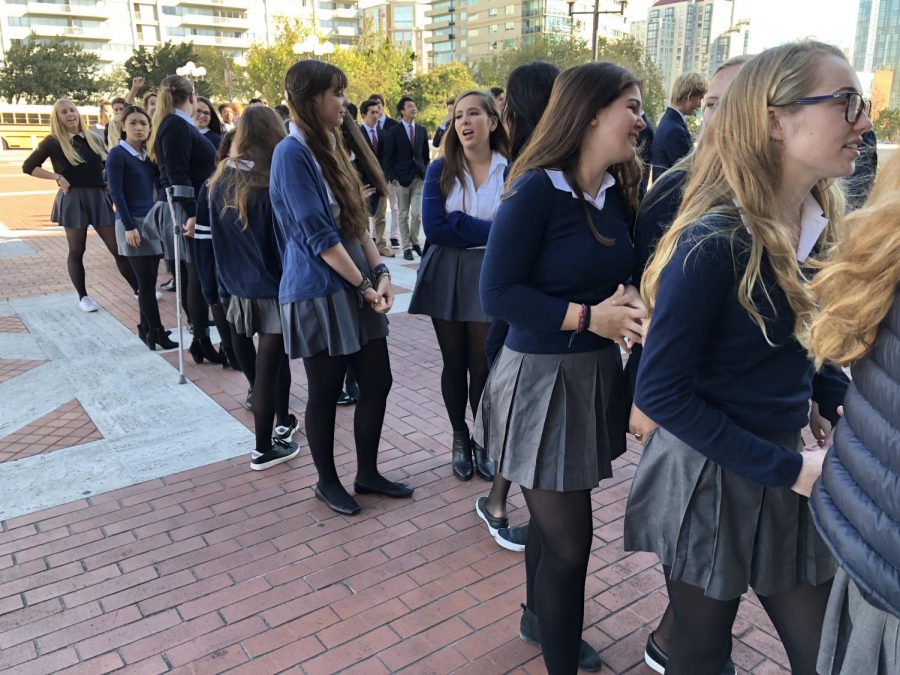 WEB EXCLUSIVE After decisions were made by the student support staff, Head of School Rachel Simpson announced this morning that the traditional senior navy blue will continue to be a part of the dress code until the end of the 2018 school year.
"When Convent had a full uniform, navy blue became a differentiator between underclassmen and seniors. Seniors would wear navy and everyone else would wear burgundy,"  Director of Student Life Devin DeMartini Cooke said. "As we have evolved into a dress code, it has become harder to differentiate the grades since clothing options are more open."
During the last semester of the 2016-2017 school year, the previous Senior Class had opened navy blue to all grades on dress code days, but a rule concerning a senior color was never formally announced.
"We had conversations with Student Council and the entire class and opted to open it up because it was no longer something they valued," DeMartini Cooke said. "They chose not to have it which didn't mean that it wasn't a senior color and I think that was not communicated properly."
The current seniors had seen navy as a senior color throughout their high school career, so they have been pushing for the tradition to return.
"The senior color was something we grew up with, and it was a symbol of respect for the seniors when we were underclassmen," senior Francesca Petruzzelli said. "As freshmen, we were told we couldn't wear navy by the seniors so we've been looking forward to the opportunity to finally wear it."
After continuously meeting with the student support system, seniors decided the tradition will stay in place for the class of 2018, but as of now, it will not be implemented by any Senior Class after.
"The senior color has been enforced throughout my high school experience and it's something underclassmen look forward to throughout their high school career,"  junior Riley Kramer said. "Many girls in my grade have been waiting to wear navy with pride and were shocked to learn that it wouldn't be a senior privilege after this year and for us next year."