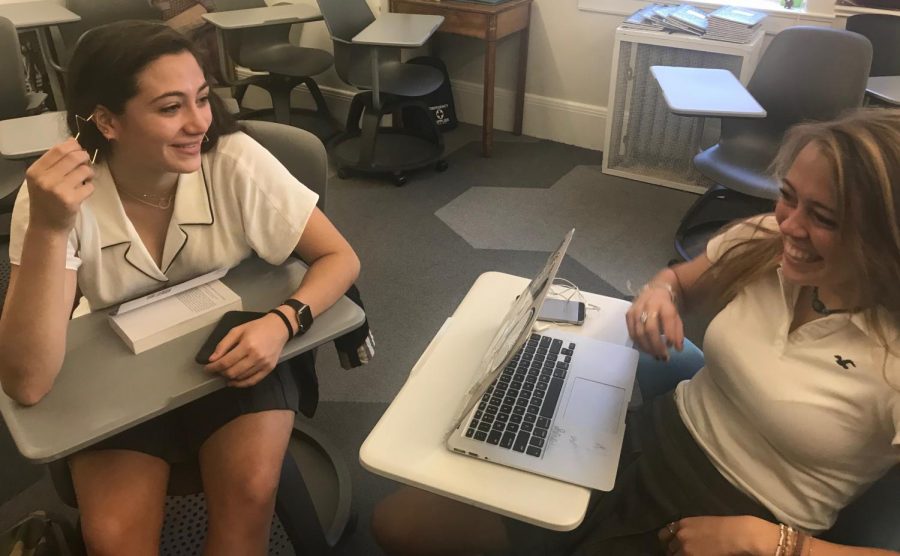 Gabriella Vulakh
WEB EXCLUSIVE Prospective female wrestlers met during lunch today to discuss the approaching second year of coed wrestling and the potential formation of an all girls wrestling team.
"I think a lot of girls are simply afraid of stepping out of their comfort zone," junior Sofia Pirri, who will be wrestling for the second year this season said." It definitely takes a special type of athlete to wrestle — someone who is competitive, hardworking and will push through the pain —but I think every girl should try it."
Both male and female wrestlers practice together Monday through Friday from 3:45 to 6:00 p.m at Stuart Hall and compete with schools throughout the state in meets once to twice a month. Wrestlers are matched based on weight, in a range between seven to eight pounds, and skill level. Since there is a shortage of girls, they often compete with boys during the four to five matches each meet, according to Pirri.
"I really like asserting myself and feeling equal to a guy," Pirri said. "Wrestling is probably the hardest thing I've ever done but I like working hard and competing against guys and pushing past the boundaries set against women."
Wrestling is both physically and mentally challenging especially for girls according to Pirri. Many girls struggle with joining the team because they associate it as a male sport and think they will be out of place on the team.
"I've a learned a lot from wrestling," Pirri said. "The most important thing being that everyone has an internal line that they aren't willing to cross because they are too afraid of the social stigma it will cause. But I've lived behind that line my entire life and I got sick of it, so now I have begun to push that line with wrestling."
Before last year, the wrestling team was solely comprised of boys, because girls had never before wanted to join the team. Pirri and another student voiced their interest in the sport and were among the first girls to make the team co-ed.
"I love how the girls took the initiative to join the boys wrestling team," junior Elizabeth Worthington who is considering joining the team said. "I want to be a part of this strong team where girls break stereotypes and I'm also excited to try something new."
This year the girls' uniforms will change from the regular body tight singlet to spandex shorts and shirts, according to Pirri. They will also wear headpieces and hair covers which will protect their hair from being pulled on by opponents.
"Wrestling is a great experience for everyone to have and I'm very excited to be able to coach the girls again this year," wrestling coach Austin Emerson said. "We are going to do very well this year, I can feel it."