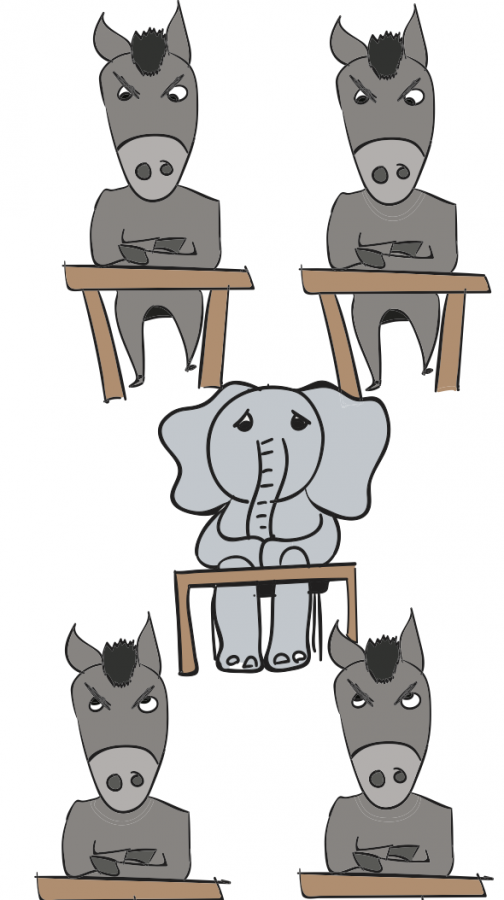 City, school community find silent elephant in the room
Minority political party followers may receive backlash in majority liberal area.
In a city where a Republican mayor has not been elected for over half a century, a silent demographic of students may feel repressed when it comes to sharing their viewpoints both in and out of the classroom.
Approximately 14 percent of San Francisco's population is registered as Republican, according to the Public Policy Institute of California. A decreasing Republican presence among registered voters may be in direct correlation with student conservative viewpoints.
"As a Republican in San Francisco, I've learned that I don't really agree with my friends or family in terms of politics," sophomore Olivia Mohun said. "We just kind of agree to disagree."
San Francisco Republican mayor George Christopher ended his term in 1964, and the registered San Francisco Republican population has steadily decreased and experienced harassment ever since, according to Howard Epstein, San Francisco GOP Vice Media Chair.
"Voters discriminate against our party in every election," Epstein said. "We put our opinion out and get nasty responses telling us we don't belong in San Francisco, we're selfish, racist — you name it."  
Twelve percent of students identify as Republican, according to an anonymous Broadview survey in which 48% of students responded.
"My experience at Convent has been typically like San Francisco — fairly progressive and liberal," history teacher Michael Stafford said. "There have been some students who have expressed various conservative views, so it does happen. I love how the students own that."
With so few identifying as conservative, some students like Mohun say their opinions are neither welcomed nor wanted due to long-standing stereotypes.
"There's a stigma that the Republican Party is just a bunch of old, rich white men, but I see the Republican Party as a different group," Mohun said. "The Republican Party is based on tradition and strong moral values. They're good people who try to stay true to how America was founded."
The basic tenets of the Grand Old Party include that Americans should make individual decisions in healthcare, educational, energy and economic policies — freeing individuals and families from overreach of federal bureaucrats, according to the Republican Party's official website.
Republican dissent of Democratic Party policies, however, may be lost in translation.
"If we say that we disagree with one of the president's policies, we have people claiming that we wouldn't say the same thing if the president was white," Epstein said about liberal responses to conservative viewpoints. "In reality it has nothing to do with the president's race, it simply has to do with his policies."
---
"We get our opinions out and get nasty responses telling us we don't belong in San Francisco, we're selfish, racist — you name it."
---
Epstein says many San Francisco Republicans do not admit to their conservative beliefs because they are afraid it may hurt them in their work and social lives.
"I find it ironic considering the Democratic Party and progressives today focus a lot on being tolerant," Mohun said. "It seems that the one type of intolerance they allow is towards people who have ideological or political differences."
Backlash towards Republican views may also occur on campus as over 63 percent of Republican students report their peers do not respect their political views.
Stafford says Republican students tend to feel defensive and backed into a corner when it comes to sharing their views.
"I can imagine there are people with conservative leanings in my class who have not even articulated their beliefs for fear of reprisal, social condemnation or being judged," Stafford said. "They just don't want to go down that road in certain conversations."
Adverse reactions towards Republican beliefs derive from an exuberant curiosity, according to Stafford.
"I want my students to explore what other people think instead of just yelling, which isn't productive," Stafford said. "Empathy, curiosity and questioning  will allow people to see that other people prioritize different issues than them and in turn they see the world in a different way."
A new divide, however, has emerged within the Republican Party with the 2016 Republican nominee Donald Trump.
The majority of Republican Trump supporters are typically business owners looking for industry deregulation, according to Epstein.
"Trump supporters are fed up with business usual," Epstein said. "If you own a small business, you spend more time as a government compliance officer because of all the regulations that come down from federal, state and local legislation."
Yet some Republicans have pulled their support from the nominee as his demeanor has received overwhelming criticism from the general public, according to Mohun.
"He has this aura of racism and sexism around him," Mohun said. "I don't support him because I don't want those traits connected to our party."
Stafford says politically involved individuals should think critically about their beliefs and not merely accept information handed down to them through friends, family or the media regardless of political leaning.
"We have to think critically about every single decision we make and every single side because the issues are so complex," Stafford said. "There's a reason why there are a lot of different viewpoints and reasonings for political topics."
Students should not view Republican beliefs as completely homogenous, according to Mohun.
"Just be aware that there are people that might have different opinions than you," Mohun said. "You don't have to like or agree with their opinions, you should just respect that some people believe differently."
Teachers like Stafford say Republican students may want to share their views with the community to combat a sameness in views.
"It would be beneficial for our community to see that people we know, love and respect do think differently on certain issues," Stafford said. "Uniformity is boring."
(Visited 161 times, 1 visits today)