Kendra Harvey
Construction surrounding campus is one of many projects happening around the City, affecting schools and the residential communities.
Difficulty with parking increased for faculty and student drivers in an already limited parking area, as well as created more noise and obstacles for upperclassmen going off campus for lunch.
"I find it a little annoying just because it goes on for so long," senior Julia Praeger said.
The construction to fix the sewage pipelines took place at the corners of Fillmore and Jackson last week, where Mayflower Market and Gino's Grocery, corner stores popular among students, are located, and will continue along Jackson St. until the pipes are finished.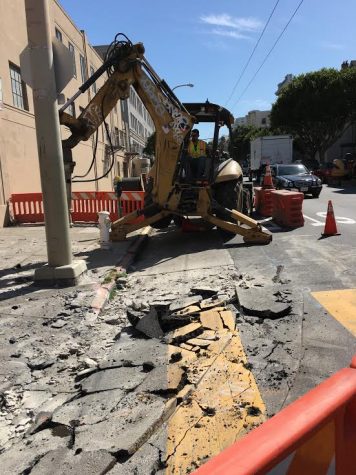 "They have to know what they have to do," Gino's Grocery worker Elias Hibaj said about the construction. "It's affected business a little bit, but it's okay. They have to do it."
Construction closed part of the sidewalk next to Gino's Grocery and Hibaj was informed that the construction would be finished by May 27 when they first began to project.
Added pipelines and other nonresidential construction totaled $33.3 billion in California in 2014, according to The Associated General Contractors of America. These projects, often extending for weeks to months at a time, impact the communities they are central to, but Praeger says residents can work around it all.
"It's not the biggest thing in the world," Praeger said. "It's just really noisy."
Construction workers declined to comment on the projects aside from the fact that the project is legal and needs to be done for the pipelines.